Book now for a cosy Christmas
Spend Christmas at The Kings Arms
It's the most wonderful time of the year to eat, drink and be merry… together!
The Kings Arms will be filled to the brim with festive cheer and we invite you to enjoy our festive drinks and set menus with friends and family, or just come in for some well earned time by yourself and sit back, relax and let us look after you.
Feast your eyes on our menus, make a booking enquiry online or over the phone, and we'll take care of the rest.
2 or 3 course menu available from 13th Nov for pre-booked parties.
£5 deposit per person.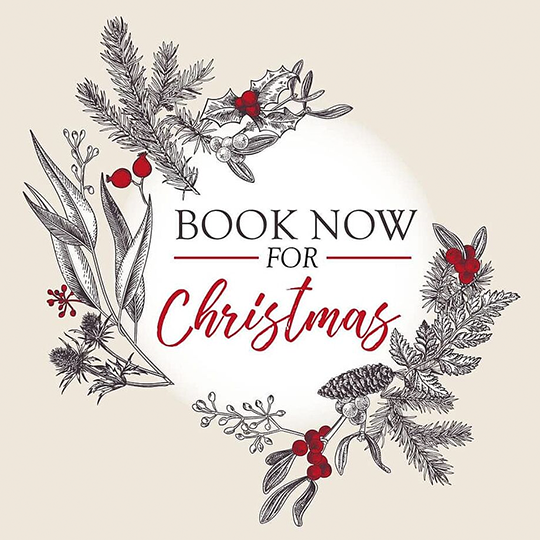 Download our menus and decide what date and time you'd like to book for.
Make an enquiry with your booking request on the form below, or call us on 02073 719585, and a member of our team will help with your enquiry.
When your booking has been confirmed secure your booking by paying your deposit (£5pp for Celebration Menu) either over the phone or in our pub.
Book and pay your deposit by 1st November and you will receive a 10% off your bill.
For group bookings of 6 or more people for the Celebration menu, we require payment in full prior to arrival.
We will provide you with a booking form for you to fill in your pre-orders for your party.
Then… sit back, relax and celebrate! For more information, please see our Terms & Conditions.
Christmas booking enquiry
Fill the form below or you can send us an email with your booking request, or call us on 02073 719585, and a member of our team will help with your enquiry.
T&Cs | Bookings
Celebration menu terms and conditions: All dishes are subject to availability and our menu is subject to change. Please see pub website for up-to-date menus at the time of your booking. A non-returnable deposit and a pre-order is required for confirmation of all bookings. Deposits are £5 per person for Celebration menu and party bookings. If for any reason you have a cancellation and/or menu change due to unforeseen circumstances this can be made up to 72 hours in advance of the booking. We reserve the right to charge in full for any cancellations or amends made after this point. Instead of cancelling your booking, we can also move your booking to January. Please advise well in advance of any special dietary or access requirements and we will do our best to accommodate. We will not be accepting cheques. We reserve the right to amend these conditions without prior notice and to withhold service in compliance with health and safety and/or licensing regulations.

*One free soft drink per designated driver. Please specify the number of designated drivers in your party in the pre-booking form.
IF YOU HAVE A FOOD ALLERGY OR INTOLERANCE PLEASE LET US KNOW BEFORE ORDERING AND ASK FOR OUR ALLERGY MATRIX.
We advise you to speak to a member of staff if you have any food allergies or intolerances. Whilst we have strict controls in our kitchens, please be aware that all our food is prepared and cooked in the same kitchen. However, processes are in place to ensure that meals indicated as gluten free are gluten free. Gluten free describes foods that contain gluten at a level of no more than 20 parts per million (ppm). Full allergen information is available upon request. Our menu descriptions do not include all ingredients. v = vegetarian, vg = vegan, gf = gluten free, cgf = can be gluten free. All weights are approximate before cooking. Fish dishes may contain bones. We aim to support local farmers from the Assured Food Standards Association. Prices are in pounds sterling and include VAT, at the current rate. All menu items are subject to availability. We reserve the right to withdraw/change offers (without notice) at any time.